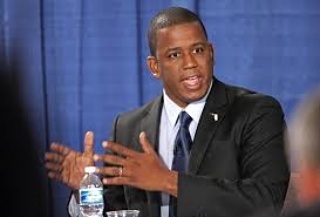 A BLACK PERSON CAN NEVER BE MAYOR MIAMI
Miami-Dade Mayor Carlos Gimenez once again proved he does not care about African Americans unless he needs our vote.
The county mayor was a no-show at a Jan. 16 community meeting to address the epic gun violence that is plaguing northwest Miami-Dade, home to a majority of the county's black residents. Hizzoner didn't even bother to send a representative. That's how much lack of respect he has for us.
Although when he was seeking re-election in 2012, Gimenez was showing up at every rally and black church, drumming up endorsements. Even though the black vote can push a candidate over the top in a countywide election, who we select always comes down to the best Cuban candidate out there. And once the Cuban candidate wins, he tosses the African American community in the garbage. All we get in return is a giant F you.
Yet, while African Americans always give Cuban candidates the benefit of the doubt, it is virtually impossible for Hispanic voters to do the same for a black candidate for county mayor. Former President Barack Obama, who is the best black politician ever and won Miami-Dade in 2008 and 2012, would not win a mayor's race here. Hispanics will always vote for the Cuban, even if he turns out to be the Latino Trump. And it's not just Cuban voters. Other Latino voters — Puerto Ricans, Dominicans, Nicaraguans and Colombians — always fall in line too.
The closest a black candidate has gotten to the county throne came in 1996 when the late Arthur Teele forced a run-off against Alex Penelas in a contentious battle that split along racial lines. Teele won an overwhelming majority of black voters, but did not make a dent in Hispanic neighborhoods. Penelas garnered more than 50 percent of Hispanic voters for the primary. In  the runoff, he almost doubled that output by winning 90 percent of the Latino vote.
At the time, former Miami Mayor Maurice Ferre and Teele endorser said, "Obviously the Hispanic community feels very strongly about having one of their own in office." More than two decades later, that sentiment hasn't changed. A major disconnect still exists between black and Hispanic residents.
So we get stuck with politicians like Gimenez, who appoint police directors like Juan Perez, who also doesn't give a damn about the county's black community. Perez was also absent at the anti-gun violence gathering.