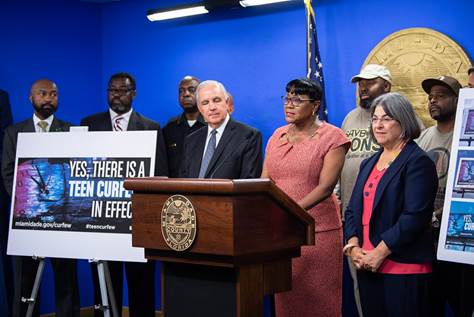 Audrey Edmonson Carlos Gimenez curfew is it only for Black Kids ? Coming soon fence around the black community
Recently, gunfire rang out a few blocks away from the practice field at Miami Edison Senior High, where I coach football. It was shortly 3 p.m. and everyone went into lockdown mode. A few days later, on May 21, a teenage boy I used to coach was shot playing video games at a friend's house. Josh Ancrum, a 17-year-old who received scholarship offers from Florida International University and Toledo University, drew his last breath in the middle of the afternoon. His death hit hard because that morning I had spent an hour speaking to his aunt about helping him stay out of trouble.
More often than not, African American kids who are victims of gun violence are getting shot before 11 p.m. Two teens were wounded in a drive-by shooting in Little Haiti on March 21. Three days earlier, a 15-year-old Liberty City boy was shot in the leg in the middle of the afternoon. The month before that, a 16-year-old boy was severely wounded in a drive-by shooting shortly before 6 p.m. in Miami Gardens. Even high profile cases like the murder of 6-year-old King Carter in 2016 happened when the sun was still shining bright.
Yet, Miami-Dade Mayor Carlos Gimenez, County Commissioner Audrey Edmonson and the professionals who work for them at County Hall recently launched a billboard campaign in predominantly African American neighborhoods warning kids that they will begin enforcing a countywide teen curfew that has been on the books for decades. According to these geniuses, rounding up teenagers after 11 p.m. is going to solve the problem of gun violence.
After a press conference that featured the Liberty City anti-violence hunger strikers as pawns, Edmonson tweeted, "I stand today with @mayorgimenez, my @miamidadebcc colleagues and community stakeholders to begin another effort in eliminating senseless gun violence with these newly launched teen curfew billboards."
Gimenez and Edmsonson don't have a clue about helping black communities. We elect these people to make sure they collect any and all pertinent information before they open their mouths and speak into a microphone. Yet, even with a multibillion dollar budget at their disposal, Gimenez and Edmonson want us to believe billboards will stop bullets from flying.
All they had to do was talk to the district police commanders and ask them for the shot tracker data that shows when and where the shootings occur. They could then focus the county's police resources to those areas. Putting a mobile police command center in the middle of the kill zones would accomplish more.
Instead, Gimenez and Edmonson are playing to the stereotype that black kids are out of control and running the streets. The curfew applies to all Miami-Dade children, but these billboards are not going up in Aventura, Bal Harbour, Key Biscayne, Coconut Grove or other affluent white neighborhoods. The billboards will bring down the African-American community by painting a picture that our neighborhoods are infested with crime and where shootings regularly occur. How can you attract major businesses and new homeowners into an area when there is a big sign telling people and companies, "the shootings happen here."
Edmonson needs to put aside her petty feelings and show a willingness to work with people who disagree with her. Thank God, she is on her way out due to term limits. As far as Gimenez. I thought he knew better. I supported his reelection because he promised to do right by all people in Miami-Dade, regardless of skin color or ethinic background. He is showing a lack of leadership.
That's why Miami-Dade Cubans need to wake up and stop voting for mayoral candidates who is one of them. We need to start electing mayors that are willing to work at building relationships with all communities.
It makes you wonder if they have a campaign donor that is in the billboard business and is going to make $2M there spending♦ putting up these signs
Follow me on Twitter and IG UncleLukereal1