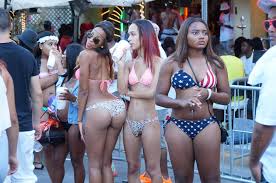 BLACK PEOPLE COMING TO SOUTH BEACH
It's that time a year again when Miami Beach officials make black people feel unwelcome in the city. Yes, Memorial Day Weekend is here. For more than a decade, African American tourists and visitors have kept coming back even though the Miami Beach is turned into a military green zone and every business establishment, from the valet parking stands to the hotels, gouges them.
Past and present city leaders have shown no interest in making Memorial Day Weekend an officially sanctioned event like the South Beach Food & Wine Festival or the annual boat show. As a Miami Beach Senior High alum, I tried to partner with the city 13 years ago to create an atmosphere that was inviting to blacks, while also maintaining the peace. I called it Umoja Festival, which featured food and retail tents and a concert stage near the beach on Ocean Drive. The first year, Umoja's lineup featured the Isley Brothers, Chaka Khan, Ludacris and P. Diddy, to name a few.
But the city, along with Miami-Dade County Community Relations Board executive director Larry Capp, hijacked Umoja, did a shitty job recreating it and then stopped doing the festival altogether a couple of years after I had launched the event. The reality is that the city, along with Miami Beach businesses, see Memorial Day Weekend as a cash cow even though they don't like dealing with the throngs of black visitors who come down for some fun in the sun. The goal is to rob African Americans blind, lock up as many of them as possible, and occassionally use some of them for police target practice.
If Memorial Day Weekend was treated like a convention coming to town, Miami Beach would get hotels to block off rooms and give visitors discounted rates. The city, the county, the Greater Miami Convention & Visitors Bureau and commercial airlines would kick in money to help support the event. Government officials would work with the event promoters to provide comped rooms to celebrity entertainers and comped ballrooms to hold panels and events.
Meanwhile, in cities like New Orleans and Toronto, government officials roll out the red carpet for events that cater to a predominantly black clientele. They show African Americans respect. More than 100 years after it was founded, Miami Beach is still treating blacks as second class citizens