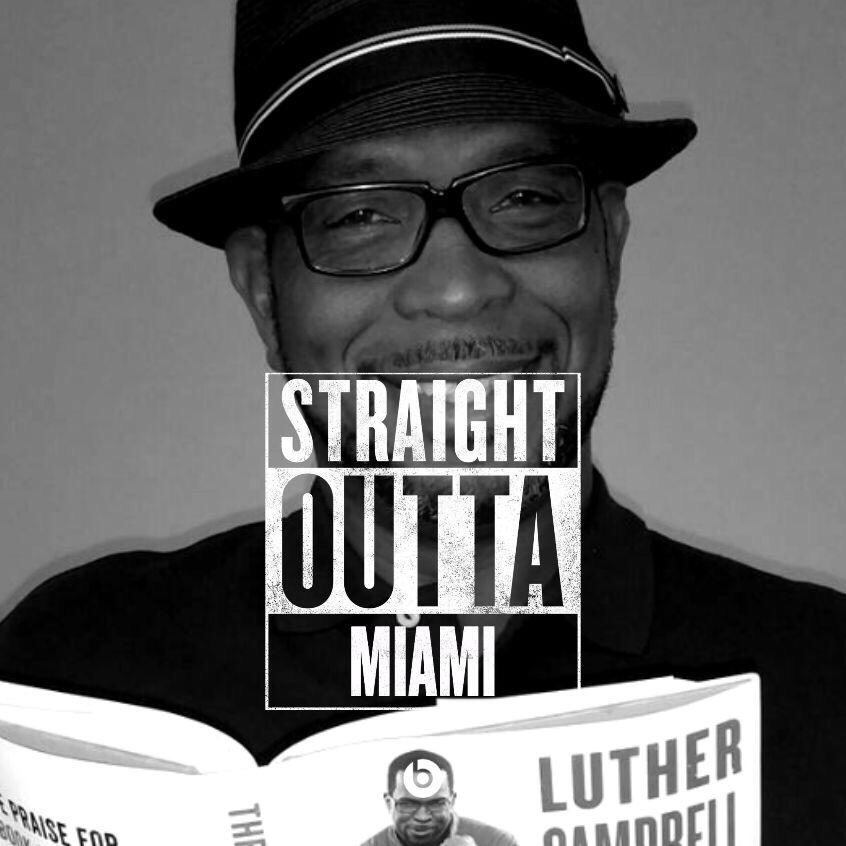 Conch Salad, Strip Clubs, and Wingstop: Luther Campbell's Miami
By Liz Tracy of VICE
Luther Campbell is everybody's uncle in Miami. He started out as one of the five-man rap group, 2 Live Crew, which made history by creating a new sound and by winning a U.S. Supreme Court case in favor of free speech. Booty bass was the Crew's gift to Mother Earth. And those motherfuckers are still As Nasty As They Wanna Be.
But Uncle Luke has since become a philanthropist in his hometown. He even ran for mayor and has a regular op-ed column in the alt-weekly, Miami New Times. You'll see his signature gap-toothed smile in the most unlikely spots—he gets out and knows his shit. Here he gives us his top-notch tips that'll make your visit to Magic City just that.
VICE: What changes have you seen in the city since you grew up here?
Luther Campbell: You should have read my book! [Chuckles] I was born and raised here, I've seen the changes from this being a predominantly African American
community to it being a largely Hispanic community.
Where is the first place you'd bring people from out of town?
First, I would show them the rich history of the African American neighborhoods. In Liberty City, there are historical restaurants from food trucks to MLK Restaurant to Finger Lickin'. I'd show them the rich history of Overtown. It was where most African Americans lived—back in the days when blacks couldn't stay on Miami Beach, just perform there, they would come to Overtown to stay and perform.
I would bring them to Wynwood, an up-and-coming neighborhood. It's similar to the transformation of Miami Beach. Those same people moved over to the art and design district and some of them migrated into Wynwood. Between the art and design district and Wynwood, those are some great areas. A lot of tourists, when they come here, go straight to South Beach, they don't really enjoy the fabric of Miami. Between Wynwood, Liberty City, Overtown, Little Haiti on the mainland then you get over to South Beach. By the time you get to South Beach, it's going to be someplace where you really just go to the beach. You can walk up and down the strip into Wet Willie's and some of the other places like that. I go to the beach just to get in the water. I go to Joe's Stone Crab and Prime 112.
What are restaurants in Liberty City and Overtown that you enjoy?
I enjoy going to my wife's two Wingstops, it's off the chain. We're located in North Miami Beach and one in Miramar. This friend of mine has this restaurant Finger Lickin', they've got soul food and seafood. There's Reed's Catering, this gentleman's got a food truck—he's famous for his conch salad, a Bahamian dish. And if you know anything about Miami, you know Miami was built by Bahamians. The fish is phenomenal. People line up for it. They put the conch salad in a pineapple, fried conch fritters—people just go crazy for it. You have Mama Lucy's barbecue. For breakfast, go to MLK Restaurant. I took Anthony Bourdain there when he came down here.
What about partying?
Friday night, you can go to a cigar bar in Miami Gardens. From there, people then go to clubs like G5ive Miami, which is an adult entertainment spot, it depends what you want to see. People walk around naked in the club. From there you can go to Brickell, they have martini bars that's popping on the weekends. You have clubs like LIV on Sunday nights and in Wynwood, every little restaurant turns into a club at night. You'd love it. If you want the big clubs popping bottles and the models, you go to South Beach. You have Club Dream, you have LIV, you have Club Cameo, stuff like that.
But if you want to dress down, put some Jordans and jeans on, and go for a tiki bar type of situation, that's Wynwood. You end up—we go buck wild in Miami—you end up at Tootsies (another strip club), they have the best food in town. They're open till six in the morning.
What are other places you love in Miami, organizations you support?
The program Liberty City Optimists, I'm a founder of it. This is our 26th year. We have the best football players in the country. We have more players in the NFL than any other youth program in America. You can go any given weekend and watch the kids play basketball, football, baseball. Tons of people just be out there watching the games, watching the kids enjoy themselves.
What's a good time of year for people to visit?
Year round! We have the best weather in the world. Right now [mid-February] it's 73 degrees. I have shorts on.
What about Coconut Grove? You didn't mention that. What are some culturally rich places or events there or in Liberty City people can visit?
There's the South Beach Food and Wine Festival which is an incredible event. Funk Fest happens in January. You have Goombay Festival. You have Calle Ocho in Little Havana. Thousands of people go to that. In Miami Gardens, you have Jazz in the Gardens. There's the Overtown Festival. You have a wide range of events. This weekend you have the International Boat Show. We have things going down year round.
What about live music? Where can people check out Miami musicians?
At Signature Cigars and Lounge on Saturday, they have a live band, with this guy Larry Dogg. In Wynwood there's live bands, hip-hop, and reggae. They have this taco place in the front and in the back is a club.
Coyo?
You've already been there?! I threw my wife's birthday party there. There's a lot of cool places to find live music.