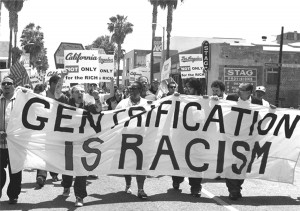 Gentrification in Miami is Racist Robbing Black People for their Land.
Everywhere you turn in Miami, gentrification is in full swing. Real estate prices are booming in Allapattah, Brownsville, Liberty City and Overtown at a time the same developers who bought up and transformed South Beach and Wynwood set their sights on new territories to exploit.
Here's how it works:
1. A black family inherits their childhood home from the mom or dad. By the time they get the house, it's completely paid off. They only have to worry about paying real estate taxes at the end of the year.
2. However, the family is stuck living next door to a halfway house, a HUD home or a trap house full of criminals that brings down property values in the neighborhood. By design, police and politicians allow the thugs to run rampant and terrorize their neighbors. This would never happen in Aventura and Sunny Isles Beach, the South Florida city with the largest influx of Russians, Donald Trump's favorite foreigners next to Norwegians.
3. As the years go by and it becomes too expensive to buy land in South Beach and Wynwood, the New York real estate moguls who teamed up with Miami's Cuban developers start eyeing houses, apartments and commercial buildings in the neighboring areas.
4. The developers approach the black family and dangle six-figure offers in front of them. Because they want their children to live in a safe neighborhood, the family takes the $200,000 or $300,000 to move out.
5. The developers tear down the houses and out up coming soon signs for new condos and retail stores that start at $500,000 or above. But first, the police and the politicians finally get their asses in gear to clean up the neighborhood and crack down on crime.
6. Then they announce a big ass project that they claim is going to be an economic catalyst for the neighborhood. Case in point: David Beckham's proposed Major League Soccer stadium in Overtown. Even though the residents don't want it, the stadium gets rammed down their throats. Some people in the area Got Served eviction notice.
7. Meanwhile, property values begin to skyrocket, which leads to increases in property taxes that makes it harder for minority families to stay put. More of them end up selling out to developers. And the people living in halfway homes and HUD houses are relocated to Homestead and Florida City.
It's a game that is playing out in every major Metropolitan area, including New York City, Detroit and Chicago. Donald Trump is making America gentrify again. He started with the Mexicans. Then he went after the Arabs. Recently, he said he didn't want Haitians and Africans in the U.S. either.
It's time for us niggas to get our affairs in order. If we are not careful, there won't be any black people left in Miami
Follow me on Twitter and Instagram along with Facebook UncleLukereal1