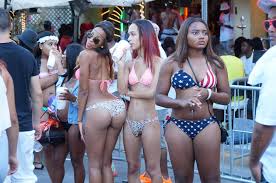 Miami Beach city government owns the blame for the out-of-control situation.
As expected, Miami Beach is rolling out a heavier police presence this weekend in an attempt to control rowdy Spring Breakers roaming South Beach. On Thursday, two dozen officers in riot gear flanked by cops on all terrain vehicles hit the beach to confiscate alcohol and intimidate party goers. Anyone who doesn't comply risks being thrown in paddy wagons parked on the sand that will give them a free ride to county jail.
This is the city's response after the initial police state tactics such as closing lanes on the MacArthur and Julia Tuttle Causeway for police checkpoints and using license plate readers to track who is coming over to have a good time. To no one's surprise, city commissioners and City Manager Jimmy Morales ramped up the unwelcoming committee for thousands of teens and 20-somethings, many of them African Americans, instead of finding a peaceful solution.
City officials and business owners were horrified when videos starting surfacing on social media showing Spring Breakers brawling in the streets and doing crazy stunts. One young woman, 23-year-old Mariah Michelle Logan lost her life when she fell out of the window of a moving car on State Road 112 on her way to the airport with her friends. When she fell, she was run over and killed by a hit-and-run driver.

Word on the street is that video bloggers are paying groups of girls and guys $100 each to get into fights and film the chaos. Those are the individuals the city should be targeting. But the dummies at City Hall don't have young African-Americans working for them who can track this information down.
Miami Beach city government owns the blame for the out-of-control situation. It's sad that Miami Beach keeps getting it wrong when it comes to dealing with tourists of color. It doesn't matter who is in charge. Since the early 2000s, I reached out to every mayor, from David Dermer to Matti Bower to Philip Levine about organizing and subsidizing events during Memorial Day Weekend the same way the city assists events that attract rich and famous people like Art Basel and the South Beach Food and Wine Festival. I've sat down with city leaders and laid out how they can create civilized events that don't discriminate against law-abiding black people while keeping out the riff raff. They never listen and now Spring Break has become Memorial Day Weekend on steroids.
The truth is city officials want to create an atmosphere that attracts thugs, drug dealers and ratchet people. They don't care about the residents or the general public because city officials keep using the same game plan. Instead, the city encourages bad behavior by allowing hotels and restaurants to price gouge and rip off black visitors to Miami Beach. That's why you have 12 people staying in one shitty hotel room that costs $500 a night. Businesses mark up their prices by 300 percent.
The only people who will pay that kind of money are thugs and drug dealers because they spend cash recklessly. City officials know what is going on, but then they want to pretend the raucous crowds caught them by surprise. Meanwhile, I can't even get to Joe's Stone Crabs because of the crazy situation on South Beach. I have to settle for the boot leg stone crabs at Whole Foods Market.
When Miami Beach is ready to create a safe and fun environment for all its visitors and tourists, regardless of color, city leaders know where to find me.
hit-and-run driver.

Follow Luke on Twitter: @unclelukereal1